Why use an SO2 sensor?
Sulfur Dioxide gas (SO2) is a toxic gas with a strong irritating smell. It is present at very low concentrations in the atmosphere and is naturally emitted during volcanic eruptions. Inhaling sulfur dioxide has been associated with respiratory disease and difficulty breathing. It is also a precursor to acid rain and atmospheric particulates. Sulfur dioxide gas can be an active component or a waste product of several different industrial processes.
Atmospheric Sulfur Dioxide
Fossil fuel combustion at power plants is the largest emission source of sulfur dioxide into the atmosphere. Other sources include extracting metal from ore and the burning of high sulfur containing fuels by ships, trains and machinery. Perimeter monitoring at industrial sites is common to measure the concentration of sulfur dioxide being emitted into the atmosphere. isweek offer both fixed and portable monitors with an SO2 sensor suitable for long term outdoor perimeter monitoring as well as shorter term human exposure studies.
Industrial Uses of Sulfur Dioxide
Sulfur dioxide is an intermediate component in the formation of sulfuric acid. Sulfuric acid is a very important commodity chemical used in several industrial processes including the removal of oxidation and rust from metal sheeting. Sulfur dioxide gas is also used directly in many industries. It acts as a preservative for dried fruits due to its antimicrobial properties and is used in wine making to protect the wine from spoilage. isweek can provide a range of instruments for industrial monitoring of sulfur dioxide.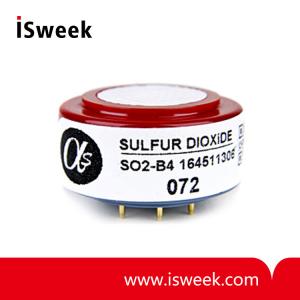 isweek SO2-B4 Sulfur Dioxide Sensor SO2 Sensor 
Alphasense Sulfur Dioxide gas sensors operate using proven fuel cell technology.

Sensors are available in the following sizes:
A: 20mm diameter, the industry standard size for portable gas detectors
B: 32mm diameter package, the best choice for fixed site applications
D: miniature, with proven long-term performance. Sensors designed for the next generation of portable gas detectors.

The SO2 range provides OEMs with reliable sensors for use in a variety of applications. Strong signal levels combined with low zero current allows resolution below 1ppm and an operating range for safety applications up to 2,000ppm. The sensors are designed for use in both fixed site and portable instrumentation.

The SO2 sensors offer our electrolyte leak-free guarantee and reliable long-term detection performance. The leakproof housing is moulded with a colour coded top for ease of identification.